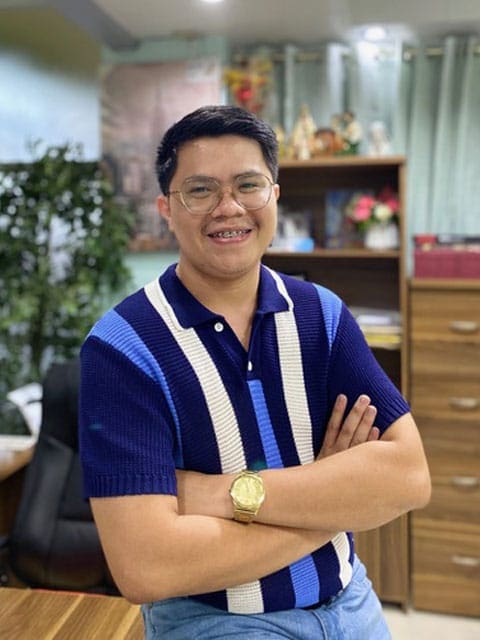 As a Staff Accountant, Rodel takes pride in his clients' satisfaction in the reliable delivery of the financial information and answers they need to be successful. Since 2018, Rodel has worked as a Staff Accountant, Tax and Audit Associate, or Accounting Manager in a range of industries, including health care, hospitality, and public accounting.

As a thoughtful leader and conscientious listener who greatly values input from his team, Rodel favors collective problem solving and collaborative environments. Clients and colleagues appreciate his outgoing personality, proactiveness, commitment to meeting deadlines, openness to feedback and new ideas, and "straight as an arrow" approach to his work. Rodel's Level10 colleagues particularly appreciate his contributions to spicing up weekly meetings with outside-the-box opening activities.
Rodel earned his BS in Accountancy from Negros Oriental State University. He is a Certified Public Accountant.
Rodel's father urged him to become an Accountant — but at first, Rodel didn't even understand what accounting was. Fortunately, he quickly fell in love with the black-and-white certainty of accounting, earning his CPA license in 2018. After working as an audit and tax intern in public accounting, Rodel began working as a Staff Accountant for one of the Philippines' private hospitals. He handled accounts payable and fixed assets, including the aging of payables to facilitate payment and avoid penalties; maintaining supplier/contractor advances and the fixed-asset database; assisting with payroll and pre-operations planning (including forecasts, projections, and loan draw-downs); and developing costing methods for hospital procedures. Also starting in 2018, Rodel worked as a part-time Instructor at Negros Oriental State University, teaching accountancy and business topics to students in the Accountancy, Business Administration, and Tourism Management courses.

In mid-2019, Rodel accepted the role of Accounting Manager at a highly rated resort property, where his responsibilities included overseeing day-to-day accounting operations (e.g., AP, check and journal vouchers, bank reconciliations, liquidation of advances), ensuring smooth sales invoicing processes and effective controls, leading monthly closing activities and financial reporting, and preparing management reports (e.g., profitability ratios, variance analysis, break-even point analysis, efficiency measure proposals, budgetary recommendations). He also coordinated with other departments on monthly expense forecasting, monitoring, recommendations, and reporting, and facilitated the preparation and submission of documentation required for compliance with local government regulations. In 2022, Rodel returned to public accounting as a Tax and Audit Associate for a local law and accounting consultancy. He especially enjoys working in taxation, considering it his contribution to the continued financial health of his home nation. Rodel, who joined the Level10 CFO team on a part-time basis in 2021, greatly values Level10's tech-forward approach to providing fractional accounting services.
Rodel was born — and still lives today — in the small town of Barangay Bonawon, the fishing capital of Negros Oriental province. In his free time, he enjoys spending time with his extended family, hiking in the mountains, and relaxing on the Philippines' pristine beaches (well, as long as he's in the shade). Rodel also regularly lends his accounting skills to tabulate the results of pageants, a prestigious and beloved part of Filipino culture. Last but not least, he is a HUGE "Swiftie," as fans of Taylor Swift are commonly known. If he could only sing one Taylor Swift song at karaoke for the rest of his life, it would be "Long Live," which he treasures as a celebration of friendship, achievement, and the power of memory to preserve our lives' most cherished moments.