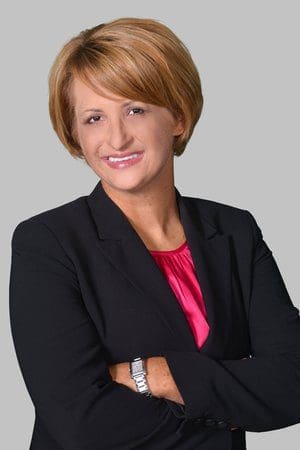 VP OF ACCOUNTING OPERATIONS
Erin is uniquely able to bring together the perspectives of CEO, CFO, Controller, and external advisor. She loves working together with clients to help them move their businesses forward, becoming a true extension of their teams and delivering the benefit of her 20 years of experience as a CEO, CFO, Senior Controller, or Senior Accountant in the public accounting arena. While Erin has deep experience in the professional services, construction, and nonprofit sectors, she also gained wide-ranging exposure to many other industries during her years in public accounting.

Friendly, approachable, and always kind, Erin is viewed by clients and colleagues as a true team player with an eternally open door. They particularly appreciate her availability, knowing they can count on her to be there for them to provide help, answers, or guidance. She makes an effort to develop genuine personal relationships, never micromanages, and views accounting as a fundamentally creative process. She also has a genuine passion for building processes and procedures, making her a perfect fit on Level10 CFO's leadership team as VP of Accounting Operations. In this role, Erin focuses on helping to mature our processes and toolkit to ensure repeatability, efficiency, effective tailoring, and seamless service for all of our clients.
Erin earned her BBA in Accounting and Master of Accountancy from Georgia College & State University. She holds a Not-for-Profit Certificate I from the AICPA and is a CPA in the state of Georgia.
Erin began college as a pre-pharmacy major, but changed course after taking an accounting class as an elective. She fell in love with the black-and-white certainty of accounting. For the first decade of her career, Erin worked in public accounting, preparing corporate, individual, partnership, and nonprofit tax returns for various organizations, assisting clients with tax planning, supervising accountant teams, consulting with clients, and overseeing all aspects of financial statement audits for numerous commercial corporations and nonprofit organizations in accordance with US GAAP. But when a nonprofit client wanted to hire Erin as CFO, she was ready to make the change to allow her more time with her first child. Erin served as CFO for just under four years, overseeing all aspects of the nonprofit's day-to-day accounting and finance functions, preparing reporting and dashboards for board review, and facilitating the annual external audit. She also handled all aspects of the organization's HR function, assisted the CEO with organizational management, and designed and implemented an internal control structure to ensure low risk of fraud or misappropriation of assets.

When the nonprofit's Board of Directors approached Erin to step up into the CEO role, she had recently had her second child and was initially hesitant. But the position was a fantastic fit, and Erin loved the business side of the role. She served as CEO for nearly five years, with complete oversight of operations, management, fundraising, donor acquisition and marketing strategies, strategic planning, budgeting , benefit plan development, and more. Erin achieved an 89% increase in gross revenues and 26% increase in net assets during her first three years as CEO. Ultimately, however, she decided to find a role that was less all-consuming. In 2017, Erin found outsourced accounting services; in the years since, she's supported a diverse portfolio of clients, managing teams, overseeing accounting and finance processes, assisting with key strategic initiatives, and serving as a trusted advisor in all areas of their business. She joined Level10 CFO in 2021.
Since Erin was born and raised in middle Georgia, the Bowling household overflows with enthusiastic Bulldog fans (and one Alabama fan, much to her dismay). She vaguely remembers having time for hobbies like scrapbooking once upon a time. But she happily admits that, nowadays, her free time often revolves around her husband and three children. When Erin's not playing taxi driver and running her kids around town, she and her family love spending time outside together, fishing in their backyard pond or roasting marshmallows over the fire pit. She also spends time on DIY projects around the house the family bought in 2020.