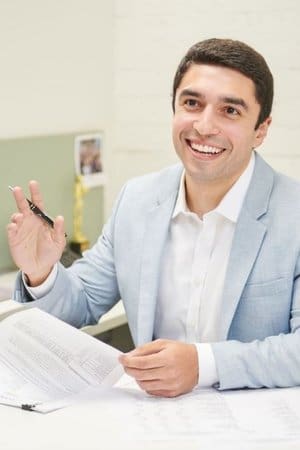 As a fractional CFO and business advisor, Brian excels at developing solutions that integrate with the business, understanding that systems and reports are only effective if they genuinely work for the people and operations they're designed to support. He is adroit at providing finance and accounting leadership that enables his clients to focus on what they're most passionate about — growing their businesses and realizing their visions. Brian's acumen and dedication have accelerated his path to leadership: His 12+ years of experience include roles as a Director of Finance & Operations, Head of Financial Planning & Analysis (FP&A), Finance & Operations Senior Manager, and Senior Financial Analyst. He is experienced in serving agencies, manufacturers, biotech, and aerospace & defense (A&D) clients.

Straightforward, genuine, down-to-earth Brian pairs a strong work ethic with a healthy sense of humor. He's able to toggle between the big picture and the weeds to come up with creative solutions and workarounds, and has earned a reputation as a "fixer" adept at helping companies to establish or revamp their systems, processes, and reporting.
Brian earned his BBA in Finance and Operations Management (magna cum laude) from the Isenberg School of Management at the University of Massachusetts Amherst.
Straight out of college, Brian had a goal: to help growing businesses. But first, he knew he had a lot to learn. So he went the opposite direction, accepting an offer with a Fortune 100 multinational as an Analyst within their prestigious Financial Leadership & Development Program. Brian spent the first several years of his career learning best practices as he rotated through different functions, divisions, and countries assisting with everything from audits, fraud investigations, and internal controls to product-line management, budgeting, and forecasting to analyzing spending, productivity, utilization, and labor. In 2013, Brian accepted a more senior role at the company's newest acquisition, assisting with budgets, forecasts, financial statement preparation, and variance analysis as well as strategic cost reduction, contract negotiation, and lean process implementation initiatives. He then moved to a global role at an S&P 100 biotech firm, interfacing with finance teams worldwide to lead budgeting and forecasting, develop sales models, and more (e.g., an ERP implementation for a $1B acquisition). But when the CFO of a small biotech communications agency reached out to offer Brian the option of running his own FP&A team, he was ready.

As one of the first finance hires at the fast-growing company, Brian set up the financial infrastructure, KPIs, and operating procedures, supplied financial data and reports, managed project finance, and offered strategic recommendations to executive leadership. He also partnered with operations leadership to redesign the staffing model and billability calculations, leading to margin improvements, increased employee satisfaction, and significant reductions in write-offs. His success led to a CEO and founder of an earlier-stage biotech communications agency reaching out and asking Brian to do the same for her company. As finance/operations employee #1, Brian built the team and infrastructure from the ground up. Over three years, he implemented a project management system, restructured vendor contracts, overhauled capacity forecasting to reduce variability and boost utilization, grew organic revenue, and increased cash flow before the agency's eventual sale for ~$31M, during which he spearheaded due diligence, valuation, systems integration, and account transition.

Next, a private government contractor created a role for Brian, leveraging him as an internal consultant focused on developing reporting, KPIs, and a long-term growth plan. He also restructured month-end reporting and managed the local transition to an Oracle reporting and BI system in anticipation of an eventual acquisition. He ended his tenure leading the San Diego FP&A organization. Brian joined Level10 CFO in 2022. He's excited to fully realize his goal of helping growing businesses.
Brian was born and raised in Milford, Connecticut. He originally headed west only for a job opportunity, always imagining he'd end up back on the East Coast. It took him exactly one Christmas on the beach in San Diego to change his mind. In his free time, you'll find Brian investing and trading, learning to code, listening to podcasts, traveling, going to the gym, and sharing memes among friends.